Are you planning a wedding?
Bartlett Hills can help!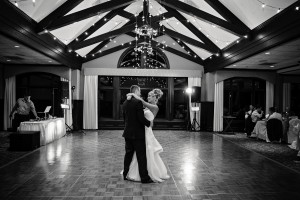 For a
printable Wedding Package:
Bartlett Hills Golf Club & Banquets is an award-winning wedding venue that can accommodate up to 230 of your friends and family. We are located in the Chicago suburbs just around the corner from St Charles, Schaumburg and Elgin in downtown Bartlett, IL.
The Ballroom features floor to ceiling windows glamorously overlooking pond views with a lighted fountain and lush landscaping that are perfect for outdoor photography. Our elegant, rustic ambiance unfolds into a beautiful barn-like setting with vaulted ceilings, a cozy fireplace and grand dance floor.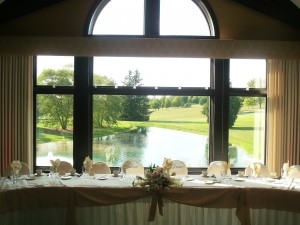 You and your guests can also enjoy the outdoor veranda for a breath of fresh air or for a beautiful outdoor wedding ceremony (you can even host your wedding ceremony here with or without booking a reception). Or perhaps a winter wonderland wedding with an inviting and cozy fireplace setting is your choice. Any season you may choose at Bartlett Hills GC is spectacular and memorable.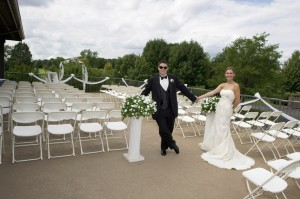 Your wedding reception will be exclusive at Bartlett Hills, and with only one event we can focus all our attention on you and your guests. You make your own times that are convenient for you and you're always welcome to extend your times the evening of.

The incredible wedding package we have prepared for you includes a 4 1/2-hour premium bar, champagne toast for your bridal party, unlimited specialty bottled wine or champagne for dinner, specialty skirting, colored linen tablecloth & napkin choices, fresh flower vase centerpieces with mirrors, votive candles, an elaborate wedding cake or cupcakes, and your own personal wedding coordinators. With flexibility to meet your needs, customizing your package is a breeze.
You will appreciate Bartlett Hill's staffs personalized attention to all your details for a wonderful stress-free wedding day experience. Day of your personal coordinators are here to ensure you a smooth-running experience. From setting up all your personal accessories, taking care of your vendors setting up, greeting guests and most of all taking care of you and all your needs. "At Bartlett Hills-You're Home" and we look forward to hearing from you.
For a printable Wedding Package:
CLICK HERE
Click Here to contact our Wedding Coordinator
to schedule your visit or for package information
Following Photos Courtesy of UnPosed Photography in Galena, IL